This guy!
I got this Cobra Mamba back in 1987 in El Paso, TX for Christmas. Still have it and is still in great condition!
- Gilbert B. of Arlington, VA
I got some great stories, too. Here are a couple of the submissions:
I don't actually have any photos from when I was collecting Joes as a kid, but I do have an amazing memory.

When I was a kid, I had some difficulties - I moved around a lot, between Florida and Massachusetts - and as a result, most of the people I was 'friends' with were in another state. When I lived in Massachusetts, my friends were all in Florida. When I was in Florida, everyone I was friends with was in Massachusetts. When the Tiger Force line debuted, Joe helped me bridge that gap. I was able to bring my toys to school, and it helped me open up to my classmates, and make new friends.

I was 8 or 9, I think, that Christmas. My Mom always went out of her way to make sure I had an incredible Christmas - there were years I got 10 - 15 video games for my NES, and I only got them because she constantly saved money throughout the year for me to be able to have an amazing holiday. So, the year the Tiger Force wave came out, I was already knee deep in Joe, and I'd mentioned to her at Toys R Us one day that I really liked the Tiger Force helicopter, hoping that might give the hint that I'd get it for Christmas.

She bought the whole wave. Every vehicle. Every figure (along with a Night Striker and Rolling Thunder from my grandfather). That was, without question, the greatest Christmas ever. And all because my Mom never wanted me to have a bad holiday.

Thanks, Mom. You are, without question, the best ever.
- Jay
It was Christmas of 1986, and I was 10 years old. My best friend (and fellow G.I. Joe fan, of course) had gotten a Cobra Terrordrome for his birthday that year, which happened to be in the same month as mine. I was wildly jealous, but loved the opportunity to play with it at his house whenever I could. I had a pretty imaginative basement set-up for my Joes at home, but having no shot at getting as high end an item as the Terrordrome, I had been using Castle Greyskull to house my Cobras. Masters of the Universe was the first toy line I collected in the early 80s before I discovered G.I. Joe.

My parents did the best they could on a cop and bank teller's salaries, and they surprised me with a Hydrofoil (Moray) that Christmas. From that day on, I used it as a mobile water-based homebase for my Cobra leaders. The memory stands out to me to this day because it was the first time I remember knowing for a fact that there was no chance Santa was real, so anything I got for Christmas was due to the hard work, research, and genuinely thoughtful effort of my parents. I hope I can give my children that exact experience when that day comes for them.
- Howie
And since others are sharing, here's one of my own G.I. JOE present photos with my Laser Defense Patrol Power Cycle by Coleco.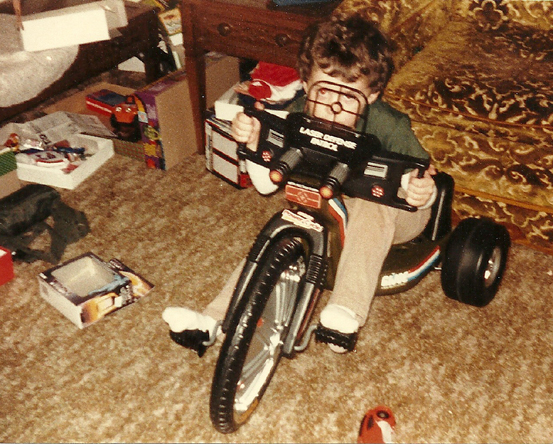 Thanks to everyone who participated!