First of all, I ordered from
CobraStickers.com
for the first time at the end of May, and the decals arrived on Saturday. I didn't get time to mess with them until Tuesday night, but what a difference they made on the Target Rattlers. I didn't replace all of the Hasbro decals, but using these for everything on the bombs and the black decal at the nose made them look so much better. I got some
The Rise Of Cobra
JOE symbol decals for my aircraft, too. I really like the logo, and I already had it on the Dragonhawk and several other things from the movie line. Got a couple of sheets of Cobra sigils, some M.A.R.S. logos, and some Dreadnoks symbols, too. While it has no danger of being as addictive as
Marauder
, I have no doubt that I'll order from them again. I absolutely recommend giving their products a try if you have such a need (especially since they're pre-cut, which was a huge plus for me). I'll be adding a link to their site here on the blog.
Secondly, I finally scored some $3 25th Anniversary G.I. JOE figures at a couple of Family Dollar stores. Two B.A.T.s, an armored Cobra Commander, Wraith, and a Snow Serpent for $15 isn't a bad deal at all. I'm still hoping to find some Cobra Divers and Ninja Vipers at that price, but I'm not complaining.
And third, I took all of two photos at HeroesCon, and they were basically two photos of the same thing. Terrible, I know, but I do have photos of all the G.I. JOE books I got signed at the convention.
G.I. JOE Origins signed by Tom Feister (all three) & Merrill Hagan (#15 with Snow Job)
G.I. JOE (Hasbro) signed by Jeremy Dale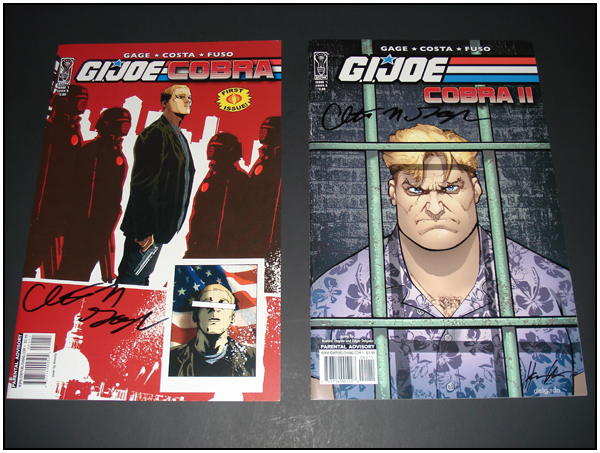 G.I. JOE: Cobra #1 and G.I. JOE: Cobra II #1 signed by Christos Gage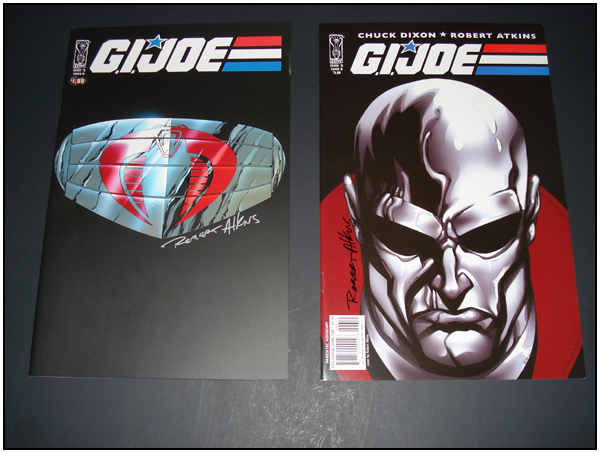 G.I. JOE (IDW) #0 & #6 signed by Robert Atkins
G.I. JOE and the Transformers #1 signed by Herb Trimpe
Now if only I could get a few books signed by Mike Zeck, I'd have autographs of all the best of the best from G.I. JOE comics in my collection. I'll post photos of all the non-JOE books I got signed next time, followed by some of the superb art I bought this year.