While I don't mind admitting that I enjoyed the movie interpretations of the characters, the Marlon Wayans Rip Cord and Saïd Taghmaoui Breaker had no place in my display of classic characters. With Hasbro's habit of reusing head sculpts in the 25th Anniversary and Modern lines, though, the best thing about actor likenesses was the introduction of more unique heads that I could use with my 25th figures (
starring Channing Tatum as "Cobra Science Officer"
). I bought
The Rise Of Cobra
Breaker and Rip Cord figures back in July for just this reason, although I did buy another Rip Cord for my movie display after seeing it at the theater. With these new heads, I decided to unmask Destro's personal troops, the Iron Grenadiers.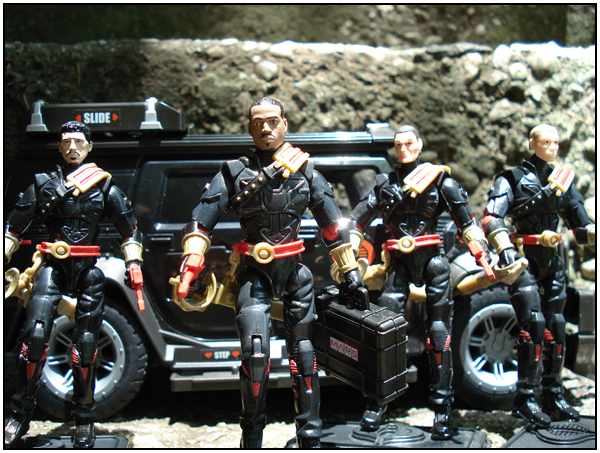 I wanted to include the IGs in my display, but without the helmets, to serve as a personal security team for Destro. The two on the right use the Flash and comic two-pack Hawk heads from the Firefly
vs.
G.I. JOE Troopers five pack; the two on the left use the
ROC
Breaker and Rip Cord heads.
This is my Iron Grenadier Officer, using the figure and stand from the Toys R Us three-pack, and carrying the M.A.R.S. case from the "Attack On The G.I. JOE PIT" Baroness figure.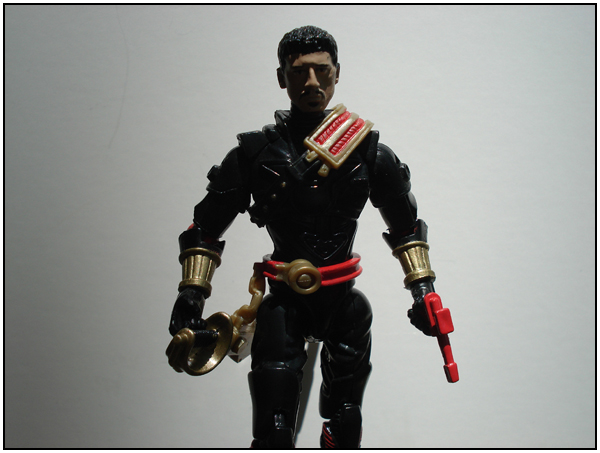 Here's the Saïd Taghmaoui Iron Grenadier, using the figure from the comic book two-pack. I knew I had to do something about those red pistols, so after taking these photos, all four IGs have been equipped with
MAC-10s
from
Marauder Gun-Runners
.
Even though they weren't going to replace the '80s versions of Rip Cord and Breaker, their likenesses are still getting put to good use in my collection. We'll take a look at the female characters of the line tomorrow.
Unmasked Grenadiers: Getting More From The Rise Of Cobra Part IV