One
The Rise Of Cobra
update to an off-screen character that I really liked was the release of Law & Order in the Toys R Us five-pack. The only problem, though, was that he was in a desert-specific uniform. I know the desert troops appeal to some people, but I have no interest in them at all. That's always been the case, too. I never even cared for Dusty as a kid. I was eager to add Law & Order to my collection, but I had to use another body.
Enter the single-carded Zartan figure from Wave 1 Collection 2 of the movie line. I passed on this figure before and after seeing the movie. I really enjoyed the character in the flick, but I didn't want a "disguised" version of Zartan (
more on that later this week
). Once I saw that Law was using the same body, but repainted with the desert camo scheme, I finally had a reason to buy one. This is simply Law's head (originally used for Dusty), helmet, and baton with the Zartan body. For me, the grey camo pattern makes for a much better MP figure in general. If he's going to be stationed at The PIT, he can save the desert gear until it's relocated to Utah.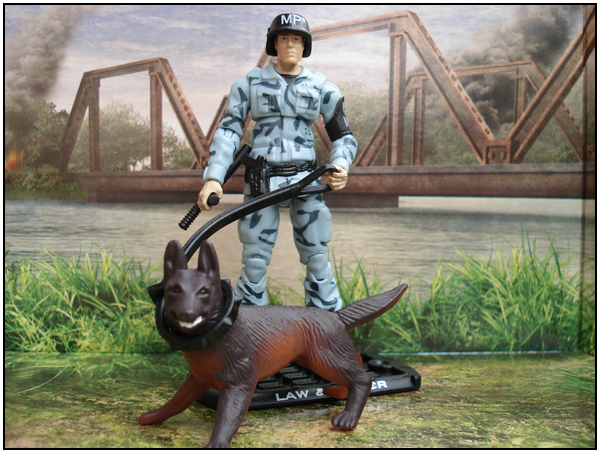 G.I. JOE figures with animals have always been a big hit with me, so I dug Law & Order back in the '80s. I always thought the original figure looked goofy, though. It doesn't happen often, but I prefer this over a straight 25th-style release of the character.
Law & Order: Getting More From The Rise Of Cobra Part III