I'll start by saying I'm a big fan of many items from Hasbro's
The Rise Of Cobra
line. There are great vehicles like the new
Night Raven
, the
Cobra Gunship
, the
Steel Crusher A.P.V.
, and the Dragonhawk helicopter. I was happy to add some of the figures to my collection, as well.
Night Adder
is an instant classic and one of the coolest new characters introduced to the brand in years.
Paris Pursuit Snake-Eyes
, the
PIT Commando
,
Rex "The Doctor" Lewis
, and
Flash
were favorites, too. Don't forget the
ROC
repaints of the
Night Creeper
and
Strato-Viper
.
The unfortunate truth, however, is that most of the figures just don't fit in too well with the classic characters of the Modern/25th Anniversary line. Or they don't mesh right out of the package, anyway. A little mixing and matching can go a long way, though, and that will be my focus for the next few days. None of these will require any paint or tools. With a few simple tweaks like head swaps and gear exchanges, even the movie line's peg warming army builders (not-so-affectionately dubbed the "Turtle Vipers" by many G.I. JOE collectors) can work their way into a classic Cobra display. I'll start with those guys, and we'll see how cool these figures look under their "turtle" shells.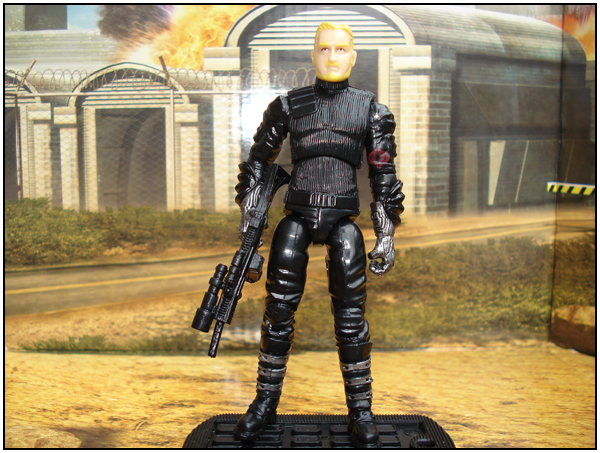 This first figure is a Neo-Viper from the Wal-Mart-exclusive Heetseek Missile System mini battle station. I simply removed the "turtle" chest armor, replaced the head with the blonde "Breaker" head from the Toys R Us Firefly
vs.
G.I. JOE Troopers five-pack, and armed him with a rifle from the PIT Commando figure.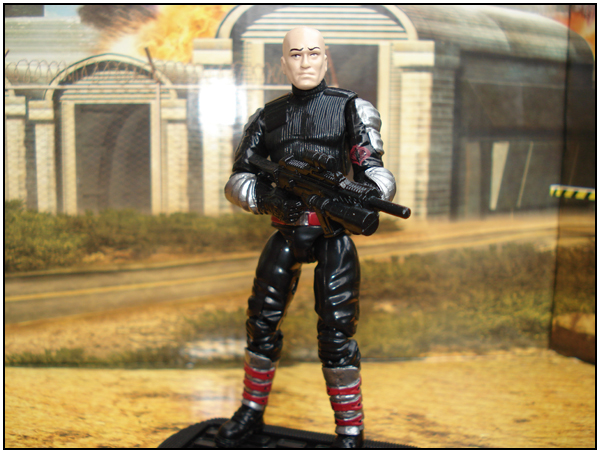 The second figure is the Neo-Viper from the Target-exclusive Serpent Armor set. Once again, I removed the chest armor, swapped his head out for a Serpentor head, and armed him with a PIT Commando rifle.
The third figure is the Neo-Viper from the Toys R Us Cobra
ROC
five-pack. Same rifle, same head and armor removal, and this time he gets a Footloose head from the Toys R Us G.I. JOE
ROC
five-pack.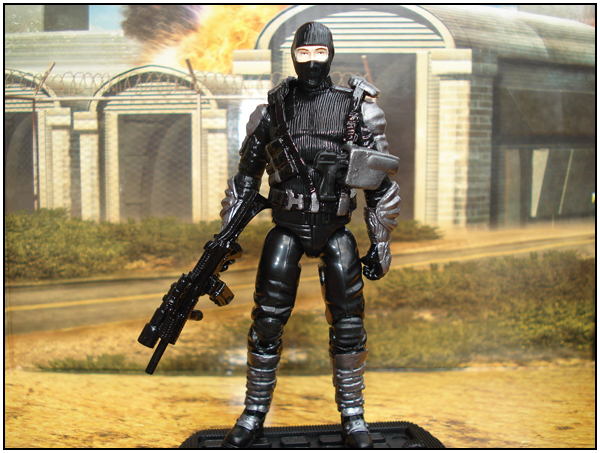 The fourth figure is just the M.A.R.S. Industries Officer from the Toys R Us Cobra
ROC
five-pack, sans the
Resolute
Cobra Trooper helmet. The Duke-in-disguise figure from that same set even came with the rifle I used for everyone else, so he gets the same weapon as his teammates.
What I ended up with is a new Cobra Security Squad, all without breaking out a screwdriver, a brush, or even a non-Hasbro weapon. In my mind, they're private contractors (think Blackwater) who patrol Cobra Island and report to Night Adder. In keeping with the snake theme, I'm thinking of referring to them as Lancehead Company.
Getting More From The Rise Of Cobra: Security Squad