One of the best movie figures from the
G.I. JOE: The Rise Of Cobra
line was
Rex "The Doctor" Lewis
, and I immediately decided I'd need a duplicate for my non-movie display when I first saw images of the toy. What I didn't know at the time was that a second version, a white coat variant, would be available later. Once that was revealed, I knew it was the one I wanted. Even a mad scientist like
Dr. Mindbender
needs someone to assist him in the lab with his research and experiments, so providing him with a lackey was the first idea that came to mind for this figure. It wouldn't do to stick with the Rex head, however, as that's too movie-specific for my tastes. This is one of those bodies with a shorter neck, though, so some heads would sit much too low on the figure.
Duke to the rescue!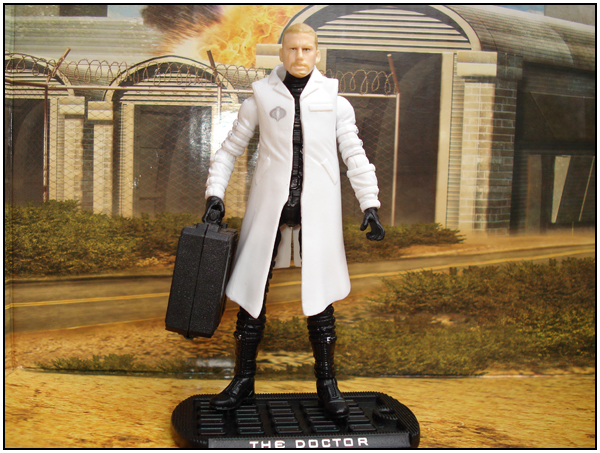 Since there won't be any movie versions of Duke in my classics display, this ended up being a great match. It's just the white coat version of Rex with the Duke head from the Toys R Us Cobra
ROC
five-pack (originally used for the v33 "Desert Ambush" Duke figure). The final result is my Cobra Science Officer, ready to help Mindbender with his next sinister creation, and complete with a normal, non-Freddy-looking head. This body would also be great for a modern Dr. Venom custom, but with an exclusive figure
coming soon from the G.I. JOE Collectors' Club
, I'll wait for that and hope for a more classic look for our dearly departed Dr. Venom.
Cobra Science Officer: Getting More From The Rise Of Cobra Part II