Okay, so I know I said I was going to take more photos at
HeroesCon
this year. I really intended to do it, too. The best laid plans, and all that. Of course, I'm usually shopping for action figures, busts, statues, and various other collectibles at least as much as I'm shopping for books, but that wasn't the case this year. I only came home with seven or so action figures this time, which is less than I usually buy the first day. It wasn't for a lack of trying, either. The selection of stuff I didn't already have just wasn't there. No, I spent most of this year with my face buried in boxes of books, coming home with a dozen or so trade paperbacks and hardcovers and around 400 single issues. Sorting through all those books is a big part of why I haven't updated the blog yet. I did manage to snap a few photos, though, but I'll have many more pics of what I brought home than from the con itself. Anyway, here's what I managed to get:
This is the con floor from the seating area over near the concessions. That crowded booth in the background under the "Aisle 200" sign had just dropped from ½ price trades to $5 trades, so they were having a busy Sunday.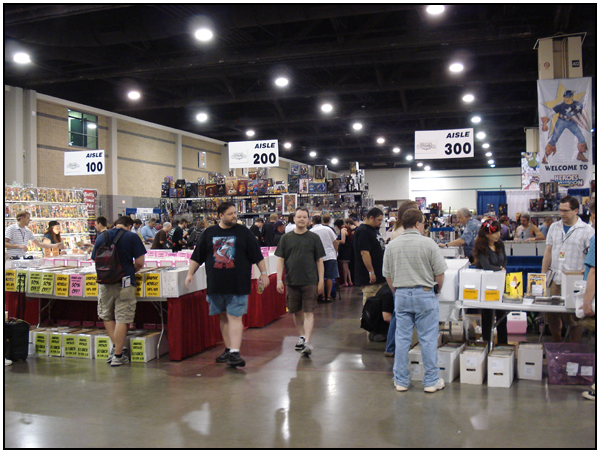 Here's the
Sci-Fi Genre
booth. I
visited their store in Durham
last year, and I've ordered from their online store several times. What a great, friendly group of people they are. Looking back, maybe I should have bought that $6 Supernova figure hanging there.
These next two photos are of
The Outer Rim Collectibles
' booth. He had a good selection of 25th Anniversary and "Modern Era" G.I. JOE figures available.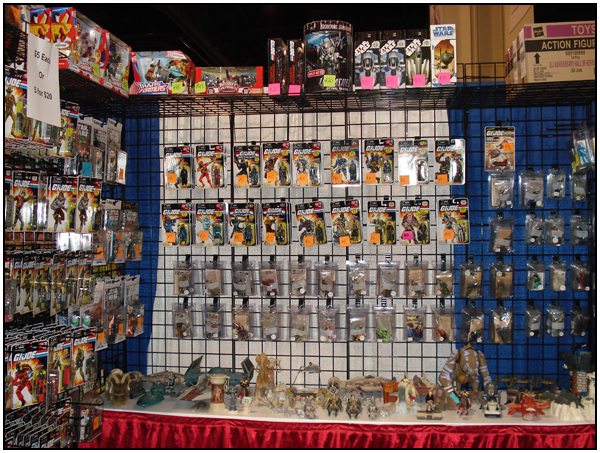 This guy was walking around in a Storm Shadow costume, so when he was standing next to me at the DC Comics booth, I decided to take a photo.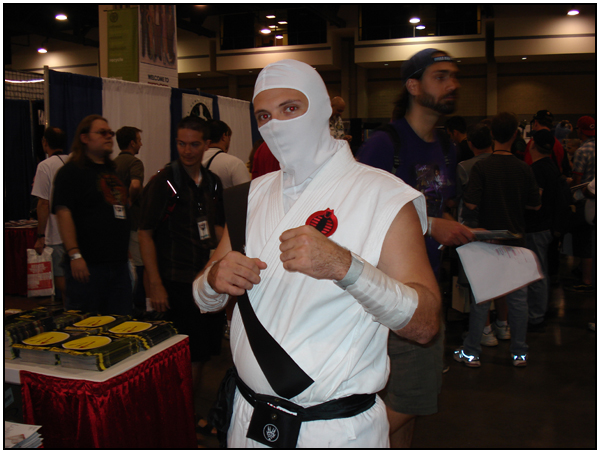 And here's a shot of Jennifer with a guy in a Cobra Commander costume. She's 5'6", by the way.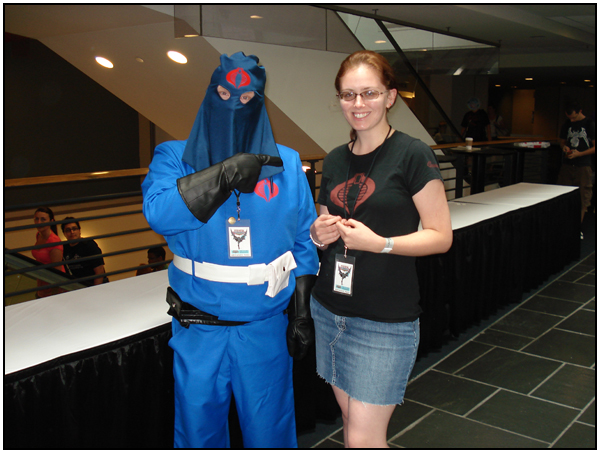 You can see larger
HeroesCon 2009 photos
on my Flickr, but that's pretty much it. As I mentioned, I'll have plenty of photos of stuff I brought home from the convention to post throughout the week, but those were the only photos of the actual con I managed to take. From what I've seen on the web, there were several attendees in recognizable costumes, but I didn't see many of them. I guess I was too busy digging through $1, fifty-cent, and even ten-cent comic boxes and wondering why no one had any recent DC Direct releases (or Marvel Universe, or
JLU
, or any of the pricey G.I. JOE variants). Where I failed, though, others succeeded. Here's the official Heroes Aren't Hard To Find
convention set
on Flickr. Seriously, I never even saw
this Cobra Commander & Baroness
or any of
these guys
. Here's some more
HeroesCon costumers on ComicBook.com
, too. While I did see the GL from a distance, I never caught so much as a glimpse of Wonder Woman, Cassie Hack, Renee Montoya, or that Batman. I've seen that Harley before, though, and I hope to never, ever see her again.