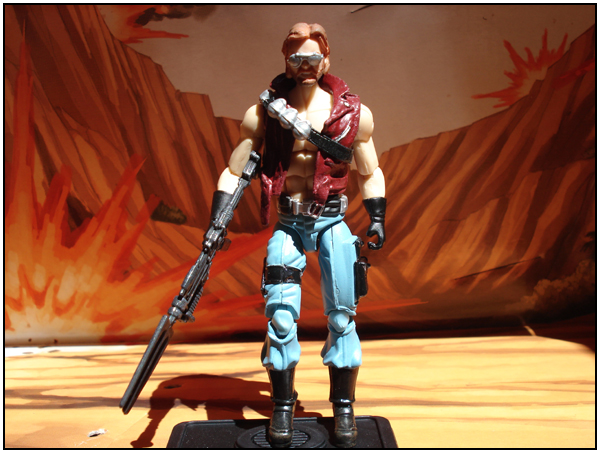 Cock the glock to your head, let off about two in it. Yeah, it's a dirty job, but I just love doin' it...
Joining the ranks of my 25th Anniversary collection now is Monkeywrench, who was first introduced to the G.I. JOE line in 1986. Almost immediately after I bought a couple of figures for parts to work on this character, he showed up in Wal-Mart's inventory system as part of a forthcoming two-pack in the
Rise Of Cobra
movie line. I was annoyed at first, but also happy that a proper version was on the way. A few days later, images of a figure with a repainted Outback head were revealed, and I was suddenly happy I'd started gathering the pieces. I'm all for sensible reuse of tooling to create new characters from existing molds, but the key word there is
sensible
. Outback's head on Monkeywrench doesn't qualify.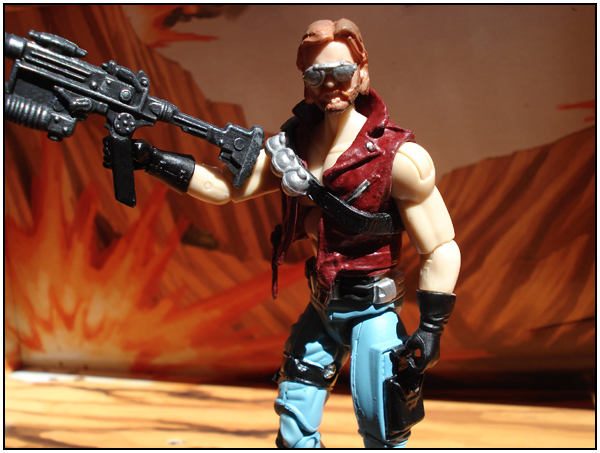 I did more kinds of war crimes, more times than in war times, went way before times...
With many thanks to customizer
Mandingo Rex
for the inspirational recipe:
Torso, waist, legs, and upper arms: comic pack Torch
Lower arms: comic pack Ripper
Head: STAR WARS Legacy Obi-Wan Kenobi
Bandolier: 2009 five-pack Snake-Eyes
Vest & sunglasses: Mutt Williams (deluxe version w/ motorcycle)
Weapon: ARAH Monkeywrench weapon
The hole in the bottom of Obi-Wan's head is bigger than the ball on Torch's neck, so I used
Handi-Tak Reusable Adhesive
to compensate. It will hold the head in place, but it's not permanent, so I can turn his head back and forth without removing it.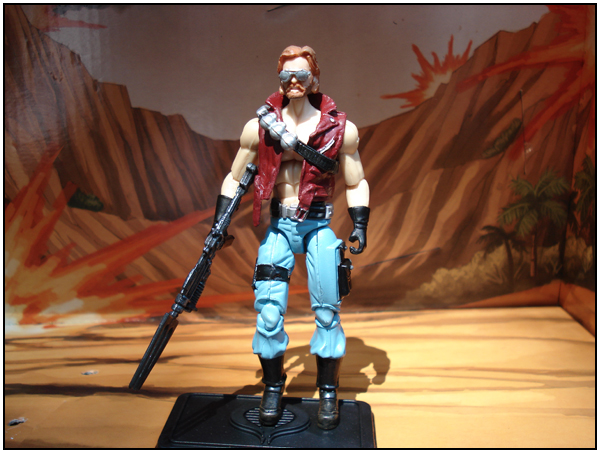 You know what's sad, man? That I'm such a madman, bad man, with that BOOM you never had, man...
Here Comes The BOOM: Monkeywrench