Okay, so I never do this, buy figures from China before they're officially released at retail. It's something I've always resisted, but when eBay seller
ws_toys
listed the
movie version Destro figure
on eBay, I gave in to temptation. The figure looks enough like the Destro I grew up with to make me want it, and for $15 shipped, I just couldn't pass on the opportunity. I was considering a similar item from another line last week, but when it broke the $100 range, I rediscovered my sense of willpower.
When I'm finished, the world will never forget...
The figure itself is topnotch. All the paint is exactly as it should be, and the joints are nice and tight, but none of the articulated pieces stick. The design and constrcution picks up right where the 25th Anniversary line leaves off, with double-jointed knees and articulated ankles, hips, hands, elbows, shoulders, and neck. His shirt and coat collar are a separate piece, which gives Hasbro options if they want to use this body again. The head is not the reflective chrome look of the past, but closer to the metallic gray used in the Cobra five-pack from 2007. His dog tag stand has a Cobra emblem on the bottom, the kind of thing I'm sure I'd have worn around the neighborhood when I was eight years old. Like it or not, collectors, there are going to be kids who
love
these toys.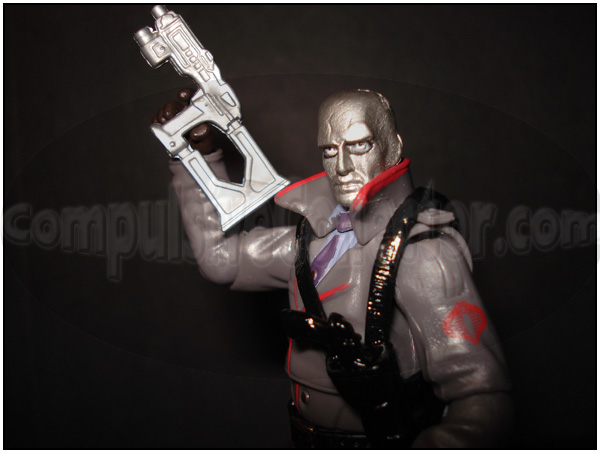 What did you say your unit was called?
Destro comes with four weapons: A black pistol that fits in his removable shoulder holster, a gray pistol, a modular gray rifle that can be broken down into two parts, and a spring-loaded rocket launcher. I'm sure that last one will get some blood boiling, but the great thing about those weapons is that you can chuck them into the trash if you don't like them. I know that won't stop people from getting online to complain about them, but the option is always there. The gray pistol and rifle have pegs that fit into small holes on the sides of Destro's legs. From what I've seen, most of the movie figures share this design element. I think that would be my only real issue with them, when a holster would have made all the difference in the world.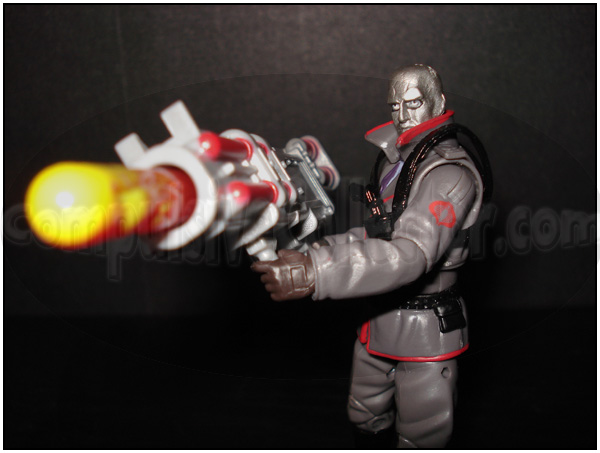 Destro with spring-loaded, rocket launching action...
I'm not expecting anything like
The Dark Knight
or
Watchmen
when
G.I. JOE: The Rise Of Cobra
hits theaters in August, nor would I have ever thought we'd get something like that from G.I. JOE, regardless of who writes, directs, or stars in a live-action version. It might be just fun enough to enjoy seeing some familiar concepts brought to the big screen for a couple of hours, though, especially when the ninjas take the spotlight. I'm not overly optimistic, though. That said, some of these toys that are coming out in the movie line look like a blast, and hopefully Destro here is just the beginning. I'm looking forward to seeing these at retailers this summer and adding a few more characters to my collection. If nothing else, I'm glad to see Hasbro giving movie lines the 3¾" treatment. Between these and the comic series
X-Men Origins: Wolverine
figures, it's a great year for the scale.
So stop your complaining about what Hasbro and Paramount are doing to your childhood, and just try to have some fun with the toys. Besides, your childhood was asking for it.
G.I. JOE: The Rise Of Cobra Destro In-Hand