Once I was nearly finished with Zarana, I still had a desire to continue. I knew I wanted Zartan's daughter, Zanya, to go with my Dreadnoks, but where would I start? There are only three females in the line, and I've already combined parts from Scarlett and Lady Jaye to create Zarana. Baroness is the only remaining female, and she's really not much of a starting point for Zanya. It then occurred to me that I really didn't need the same articulation as what's used on the 25th Anniversary G.I. JOE figures; the most important thing was scale. I ventured into my collection room, started digging through some loose figures, and found my base: the
"Arena Escape" Padmé Amidala
from
Attack Of The Clones
. Sure, she's one of those figures that's already posed, but that was more than acceptable for my purposes. She'll eventually be used in a diorama, and she likely would have ended up in a similar pose, anyway. Not a perfect solution, but certainly better than any alternative Hasbro has offered in the modern G.I. JOE line.
I used this
Dreadnoks poster
and images from the pages of Devil's Due Publishing's
Dreadnoks: Declassified
for reference. I painted her shirt (including Padmé's sleeveless arm) purple first, and then painted over that with black, intentionally leaving the black coverage thin in some areas to recreate the effect of the colors in the DDP comic series. Her pants were painted with two coats of green, and I removed a little bit of paint from a couple of spots by touching it with my finger to create "holes" in them. I went back over those areas with a flesh color. The boots were painted black, followed by some drybrushing with brown to create the "dirty" look. The belt, holster, hands, and hair were painted black, and then I went over parts of her hair with green after that was dry. Getting the lips and eyebrows right was the most difficult part, but I've since invested in some brushes that will make that sort of thing easier in the future.
I've been a bad, bad girl...
Faced with my severe artistic limitations yet again, it was now time to add a DDP Dreadnoks logo to her shirt. What you see is actually my first attempt, and it came out better than I had expected. A découpage solution would have been preferable, but the surface of her chest wasn't smooth enough to accomodate it. I wasn't going for precise detail, but just a recognizable shape, and I think I managed to accomplish that.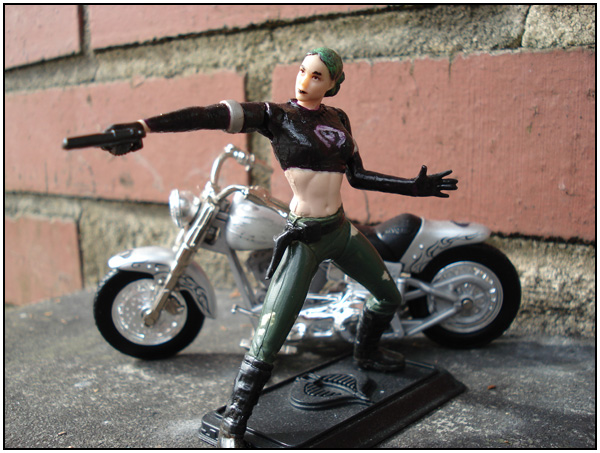 Feelin' like a criminal...
Zanya's bike is the
Fat Ride
from Mattel's Hot Wheels 1:18 Moto line, with Cobra decals from
ReproLabels.com
.
Zanya is armed with an
M1911A1 45
, available from
Marauder "Gun-Runners"
.
All In The Family: Zanya
Related entries:
All In The Family: Zartan
All In The Family: Zarana
All In The Family: Conclusion