Going back to what I said in the previous post about the significance of meeting creators, I'm not one to chase down an artist or writer's signature just for the sake of having it. I'm not one to set a stack of fifty comics in front of a guy and expect him to sign all of them, either, but I digress. There are plenty of names from comics I've truly enjoyed over the years, but never thought to have them sign anything, even when they were a guest at an event I attended. For me, it's my core favorites that motivate me to seek an autograph. Near the top of those favorites is Ed McGuinness; in fact, I have the cover art from
Superman/Batman Secret Files & Origins 2003
permanently inked on my right arm.
Getting my
Superman/Batman Volume 1
hardcover signed was a priority in 2006, when both Mr. McGuinness and inker Dexter Vines were appearing in Charlotte. Mr. Vines was first, as he was signing and doing sketches at
Heroes Aren't Hard To Find
on
Free Comic Book Day
in 2006. After being forced to cancel in '05, Mr. McGuinness was a guest at
HeroesCon
in 2006, giving me the opportunity to add his signature to the book and pick up a signed print, too. I love the exaggerated style he brings to superhero comics, and I'm a big fan of the
Superman/Batman
series in general, so this was a nice score. I can't say the pleasure was all mine, either, as Mr. McGuinness got a real kick out of seeing my tattoo, even pulling other artists away from their signing tables to gloat. At some point, I'm hoping to complete the hat-trick by adding Jeph Loeb's signature to the cover.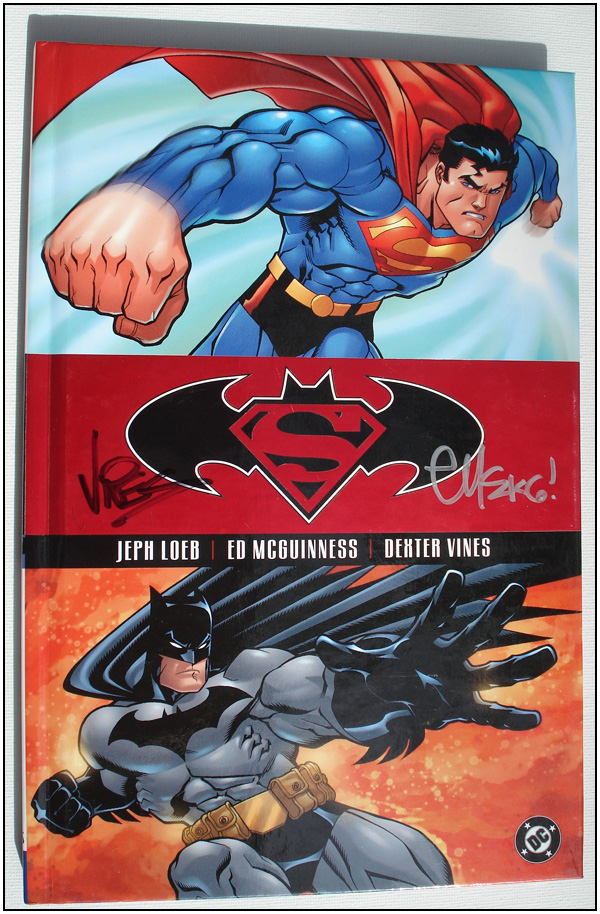 Warren Ellis was signing at HeroesCon that same year, but the line was unreal. I just didn't feel like spending a whole day of the con waiting around in it, but maybe I should have. I don't know that I'll ever get another chance to have Ellis sign something. Live and learn!
Sign Here, Please: Ed McGuinness & Dexter Vines