So there was a pretty major
announcement
about some
policy changes for sellers
over at eBay yesterday. The first one of note is a minimum rating of 4.3 on all four of the Detailed Seller Ratings, provided by buyers when they're leaving feedback. These include the accuracy of item description, communication, shipping time, and shipping and handling charges. They'll use the 30-day or 12-month rating, depending on the volume of sales for a particular seller. This is one of those things where it depends on what you sell, but 4.3 could be setting the bar a little high for online junk dealers whose customers get bent out of shape after not reading a clear and accurate description. Of course, it won't bother me. Here's my 30-day DSR as of today: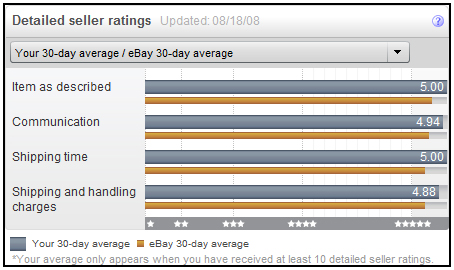 The next significant update (and I'm a big fan of this one) is the
end of paper payments
, meaning that checks and money orders will no longer be acceptable methods. That should have already happened. It's 2008, time to shit or get off the technological pot. If you're not going to pay electronically, go to the flea market, and take your stuff there to sell it if you're not going to accept PayPal. They're also going to integrate sellers' merchant accounts into eBay's checkout, so no more third-party sites to process your payments. These are great ways to improve the site, but there are, of course, plenty of people crying about it all over the internet at this very moment. "But I don't have a credit card!" So,
get one
? Hell, if you're too irresponsible to trust yourself with a line of credit, get a prepaid debit card. Do
something
, and join the rest of us in the 21st century. Personally, I wish checks would be banned from all retail transactions, too.
A few sellers are really getting riled up over a third change, the introduction of
maximum shipping and handling costs
. For now, this only applies to the Media category: books, movies, music, and video games. Have a look at
the reason eBay offers
:
Quote:
---
Buyers have told us that shipping costs on eBay are too high, and this is causing them to make their purchases elsewhere. This is hurting both our sellers and our buyers. Setting maximum shipping and handling costs based on historical date [SIC] of what buyers have told us is reasonable will keep more buyers satisfied and drive more sales for sellers.
I have to wonder if eBay asked these buyers how often they bothered to consider those shipping charges prior to placing bids. These people are adults, and if they can't add
cost + shipping = total
to figure out if they're getting a good deal, that's
their
problem. In the long run, buyers will end up paying more, because lower shipping will mean higher opening bids and ending prices. eBay takes a percentage of the final value, but not the shipping costs, which means more fees to be paid. Think that's coming out of the sellers' pockets? Of course not. In business, you always pass along each and every cost to the consumer, and then you charge more so you can earn a profit. Anyone who believes otherwise is a fool, and probably a broke one.
Quote:
---
The dollar limits are fair, especially compared to what e-commerce competitors typically charge for shipping.
And many of those "e-commerce competitors", such as Amazon, buy shipping materials in bulk, an advantage over individual sellers. Speaking of Amazon:
Quote:
---
We are starting with categories where we believe buyer expectations are particularly heightened to free and reasonable shipping. Our goal over time is to bring reasonable shipping limits to more categories.
You have to spend $25 to get free shipping from Amazon, the model against which eBay obviously believes its sellers need to compete, and they generally take several days to send your orders when you use the Free Super Saver Shipping, never mind the transit time. That's fine with me, and I take advantage of the free shipping, but can you imagine the reaction if all eBay sellers start waiting a week to drop Media Mail packages at the post office? The reality is that increasing fuel costs and rapid inflation have resulted in higher overhead for everyone doing business in today's economy, and eBay sellers are no exception to that. Imposing these limits based on what people whose only interest is to
get cheap shit
seems more than a bit bush-league. It is contrary to what makes eBay unique, a shopping experience where
the market
decides what is a fair price. Is listening to the whiner crowd of buyers really a sound method of setting policy? You would think that eBay, of all companies, would realize that these people will just find some new reason to bitch after this policy is implemented.
And on the topic of bitching, eBay sellers have been doing their fair share of that, and then some. They've been violated! Seriously, I've seen the word "rape" associated with eBay and/or PayPal fees at least thirty times today. Some are threatening to take their business elsewhere, while some are pointing out that
elsewhere
doesn't exist. Others are saying this is the first, "nail in eBay's coffin," while even more are talking of banding together to start a new auction site to add some competition to the mix. You know what? Yahoo already tried that, and it was a miserable failure. If Yahoo can't do it, what makes you think that
you
could? Hell, the way you're moaning about the fees for selling on eBay, I don't think you'd survive getting an estimate for the rates of the team of attorneys you'd need to hire to pursue such an endeavor.
This just in:
eBay ain't going anywhere. You and the other couple hundred crybabies leaving won't be a big deal. Someone else will just come along and replace you, while you go do whatever else it is you think will be a better alternative. In the meantime, eBay will be here long after you're dead and gone, and every time they announce a controversial policy update, another group of people will scream and yell about how, "It's the beginning of the end for eBay!" You are not saying anything new; I've seen it time and time again over the years. You're the latest crowd to perform this song and dance, but it's an old tune.
If I may indulge in a cliché or two, business is
kill or be killed
,
survival of the fittest
. Even if eBay doesn't believe the market will regulate itself when it comes to shipping charges, the market
will
adjust, because smart, savvy sellers will adapt and succeed.
The strong will survive
, and if you quit the game, new players will emerge. You are not essential to eBay, and you never were. All you are is customer number 7711381982, so suck it up and play through the pain, or stop crying and get off the field. It's as simple as that.
Okay, so that was more than two.
There Shall Be Wailing And Gnashing Of Teeth