I (finally) picked up some laminate finish boards for the collection room at Home Depot last weekend. These were the 6' boards: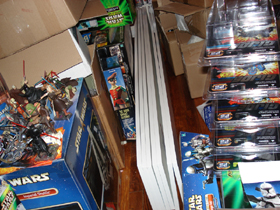 Those had to be be trimmed down to about 5' to fit the north wall of the collection room.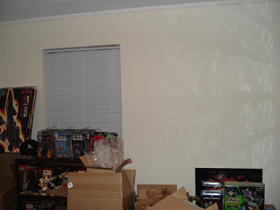 For the smaller section of that wall, between the window and the closet door, I bought 2' shelves. I also bought a 6' board and a 4' board to run along the entire length of the wall over the window. I also have three 3' boards: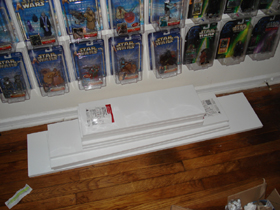 The 3' boards are for the west wall, between the closet door and the main door, and will be surrounded by carded figures.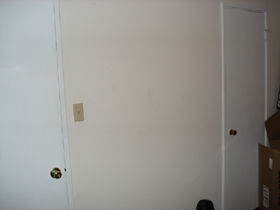 My friend Paul and I got started over the weekend. First step was trimming down the boards. Two of the 6' boards had to be trimmed down to 60", and four of them had to be trimmed down to 61". Two of the 2' boards had to come down to 21¼", and the other three were cut to 22".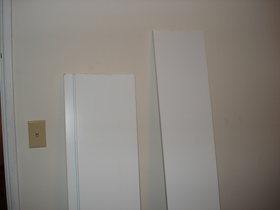 The first shelf goes up between the window and the closet door: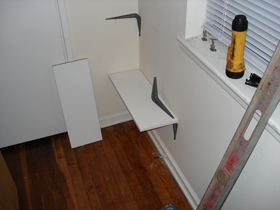 The lower small shelves were cut shorter to accomodate a bookcase that will sit in front of the window, while the higher ones come all the way to the edge of said window:
The same thing was done for the larger shelves, trimmed just a little more on the bottom two. The top board was cut down to 69", and a 4' board runs above the smaller shelves to meet it over the window, giving the appearance of one long shelf along the entire top of the wall. I'll show pics of that later: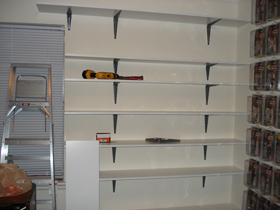 I still have one smaller shelf to add and the 3' boards between the two doors, and that's what I'll be doing this afternoon. Once the 3' shelves are up, I'll start arranging the ¾" figures above and around them.