Seriously
not cool.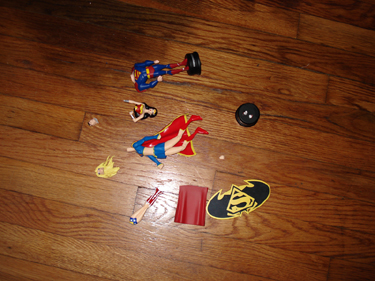 The casualties:
Justice League
Superman mini maquette,
Justice League
Wonder Woman mini maquette, and
Superman/Batman
Michael Turner Supergirl.
The culprit:
Superman/Batman Michael Turner "Corrupted" Supergirl
.
Jumped off the riser, took "good" Supergirl with her, and (somehow) managed to catch the two mini maquettes on the shelf below them. She really
is
evil.
This happened two weeks ago. I've already replaced the mini maquettes, but I haven't located a substitute for Kara yet. Grrrrrr...