It's my twelfth day of being thirty years old, but believe it or not, my debut on this planet wasn't the only historically important event to occur in 1977.
· Jimmy Carter was sworn in as the 39th President of the United States.
·
Smallville
's Tom Welling was born two days prior to me.
· 27 days after I was unleashed upon this world,
STAR WARS
opened to American audiences. I saw it, as a newborn, during its first run (yes, my mother was apparently one of those people who takes babies to movie theaters). I literally grew up with the
STAR WARS
saga, and seeing
The Empire Strikes Back
in 1980 is one of my earliest memories.
· NASA conducted the first test flight of their Space Shuttle (time for a new design, don't you think?).
· David Berkowitz terrorized New Yorkers as the "Son Of Sam" serial killer.
· Elvis Presley, The King of Rock 'n' Roll, died on August 16 at 42 years of age and 350 lbs.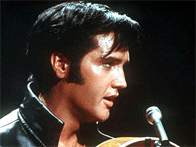 · The World Health Organization declared the eradication of smallpox in October.
· Elvis Costello, The Clash, The Damned, Talking Heads, Suicide, Motörhead, and the Sex Pistols released their debut albums, Pink Floyd's
Animals
was released, Black Flag, X, and Crass formed, and Led Zeppelin played their final gig in the U.S.
The world is a different place today than it was in 1977, and what an interesting thirty years it's been. With any luck, I'll be around for the next thirty, too.